Tattoo transfers sample kit
The tattoo sample kit is sold with the main purpose to help you make the decision to have your custom tattoos made by Makeup-FX.com!
We have over the last number of years made thousands of tattoos for over 10 feature films and many, many theater plays.

But before deciding on using our tattoos, most people always want to test the quality first and see if they will work for you.
So now we have made a sample kit that you can buy and test out first.
The tattoo sample kit contains around 25 tattoo transfers of mixed sizes and patterns as you can see below.
The tattoos have all been digitally cut to avoid un-necessary excess material that will turn grey.
This shop is moving to a new site!
This page will still be online for a while longer but please use the new shop already now.
We offer more shipping options and better ways of keeping track of your order!
Of course we also offer lots of other products in the big shop.
Click here to open it in a new window.
Makeup-FX-shop.com
Help celebrate our new shop and get a
10% discount
by using the code "
New10
"
(Valid until 2020-01-31)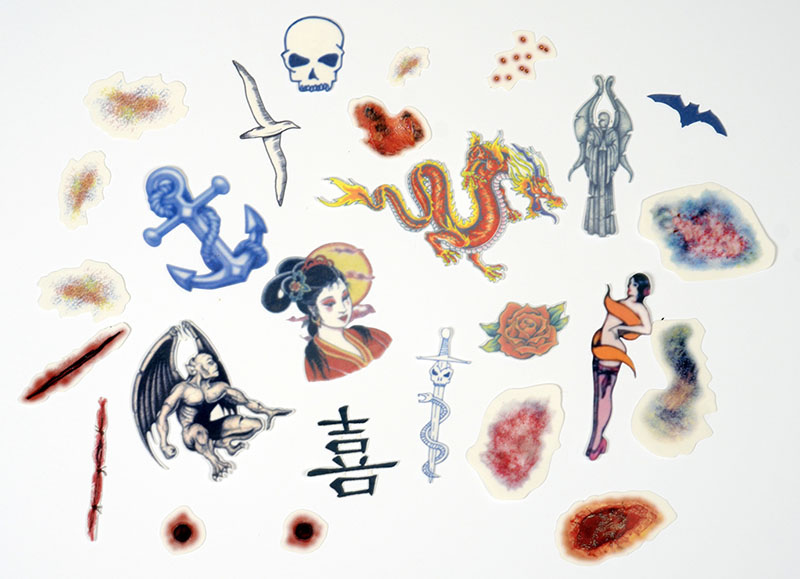 Price 200 SEK including world wide shipping

Order it by clicking on this button:
The tattoos are made with allergy tested materials but we strongly recommend that you make a small test first!
We always send a full written instruction how to make the best application and information on how to order your custom tattoos.
You can always view your cart by clicking the "View cart link at the top right side of the page.
On the payment page you will have the option to log in and pay using a Paypal account
but if you don't have one please just continue where it says "Pay with debit or credit card?" or "Don't have a Paypal account?"
Then you will have the option to pay with your credit card.
Terms of sale:
All sales are made in Swedish Krona.
Shipping is included in the price
Prices include Swedish VAT for sales within Europe.
Sales outside of the EU are sold at the same price but includes 0% VAT to cover the increased shipping costs.
For EU VAT registered company orders, please use the order form.

If you want to check todays exchange rates please click here.

The order is sent using unregistered Swedish post air mail. No tracking number will be provided.
If you want a tracking number, please order with the order form instead.